Digital market overview
BNP Paribas Real Estate Dashboards
The BNP Paribas Real Estate Dashboards offer us a wide range of opportunities to present real estate markets digitally and interactively. Be it at your desk or when out and about, their responsive layout enables you to view, analyse and discuss the latest market developments in different asset classes on your smartphone, tablet, PC or laptop. What's more, the integrated filter function allows you to clearly view and compare large amounts of data at a glance. Why open a multitude of individual files or carry around pages upon pages of documents when you can quickly access an up-to-date market or location overview with just a tap or a click?
Digital office market maps
The digital and interactive office market zone maps available from BNP Paribas Real Estate enable you to keep an eye on the top office locations in Germany and their submarkets in terms of individual office market zones – be it in the city centre or on the outskirts. You can click on the legend to select one or more office market zones and to view various key figures for office properties that allow you to analyse factors such as prime rents. The zoom function also enables you to take a closer look at subregions of the different market zones.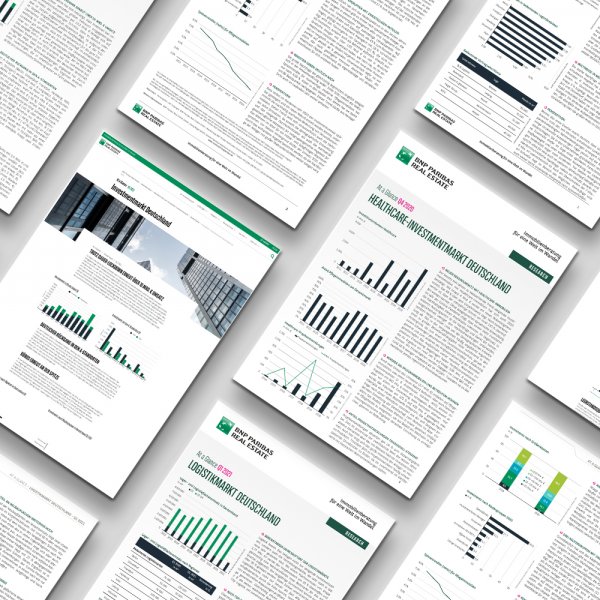 KEY FIGURES AND ANALYSES
ON THE GERMAN REAL ESTATE MARKET
Find out more about the latest developments in the investment, office, logistics, retail, hotel, healthcare and residential real estate markets to base your property decisions on a strong foundation of solid market information. We are happy to provide you with an extensive overview of property-related developments throughout Germany and details of the real estate markets of the largest German cities.