Office properties
Office properties
Office properties are an important part of our towns and cities, defining the urban landscape and providing a place of work for millions of people. As such, this is a high-profile asset class for rental and investment properties. Key office locations are the Big 7 cities of Berlin, Düsseldorf, Frankfurt, Hamburg, Cologne, Munich and Stuttgart. We are on site as a real estate service provider at these focal points and in other strategic locations. Find out all about the services we offer in the field of office properties:
Personal advisory services for you as a tenant
Are you on the lookout for suitable office premises? We can assist you throughout Germany, from the major cities to booming towns on the urban fringe.
Location is a vital factor here, along with the size and fit-out of the premises. A key question is whether the location is attractive for employees and potential customers. We draw up your personal requirements profile on the basis of this and other questions relating to your current office situation and your expectations of new work premises.
We are able to draw on long-standing expertise in the field of real estate to advise you in choosing suitable premises, supporting you throughout the process all the way to conclusion of the lease agreement. If you so wish, we will also be pleased to attend to designing and realising your new office premises and also provide relocation management.
A selection of our services at a glance
Analysis of the current office situation, the building and space utilisation
Development of an individual requirements profile, with due regard to location and terms
Presentation and viewing of office premises
Advice on choosing the appropriate office property
Support in negotiating and concluding leases
We follow up our customers' requirements, armed with an intimate knowledge of the special features of local office markets. Exploit the benefits of our profound knowledge of this market and our extensive experience. We are at your service throughout the entire process, from canvassing through viewing to the move into your new premises.


Personal advisory services for you as an owner
We offer detailed expert advice on buying and selling. When it comes to finding suitable tenants for your office premises, the emphasis is not solely on filling the property. The ultimate aim is to increase the value of your office property.
We take a thorough look at the bigger picture, examining the market and available tenants to exploit your office property's potential to the full with an eye to letting your property over the long term or selling it at a profit. We deliver an objective analysis and an individual marketing strategy with persuasive exposés presenting your office premises.
If appropriate, we will also be pleased to draw up revitalisation and upgrade concepts to position your properties more effectively on the market. Take it from us - your premises most likely harbour greater potential than you ever dreamed of! We also represent your interests in all phases of the planning and building process. And we are at your side throughout your lease negotiations.
A selection of our services at a glance
Negotiation of optimum rents for your premises
Transparent presentation of the supply and demand situation
Ideal positioning of your office premises on the market
Identification of potential and scope for optimisation
Representation of your interests in an independent advisory role
Our experienced staff are our recipe for success: Our property consultants are specialised in acting and negotiating in your best interests We will be pleased to support you throughout the entire process, from canvassing for buyers and tenants to the conclusion of leases and contracts of sale.


Personal advisory services for you as an investor
Irrespective of the type of company concerned, many factors require to be considered when choosing a suitable office location, from traffic connections through rental costs and image aspects to the quality of the overall setting. The quality of the available property management increasingly also plays a central role. As an investor, you need to consider carefully which properties you invest in so as to achieve your targeted yield.
Fortunately, offices are our core business! Our investment experts are thus able to offer you all the support and advice you need, whatever your profile and your special concerns. We are there to guide you safely through acquisition and sale processes for individual properties and portfolios – from office buildings through mixed-use properties to office high-rises.
A selection of our services at a glance
Appraisal of your investment criteria and options
Property and location strategy, identification of suitable locations
Assessment of investment prospects and selection of property
Presentation of selected investment properties or portfolios and concrete recommendations tailored to your investment profile
Development of an individual, target group-specific marketing strategy
Production of the full scope of sales literature
Attainment of best possible price through bidding process
Exploit the benefits of our extensive experience in the area of users' requirements. We have a long track record of advising major enterprises on their property strategies and small and mid-tier companies on the selection of office locations.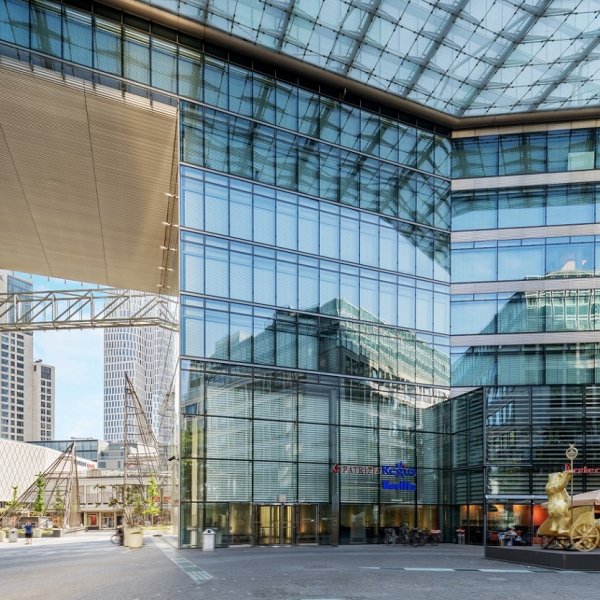 Your partner for office properties
North, east, south, west: we advise you nationwide and make use of our worldwide network of reliable partners. Benefit from our extensive market knowledge and many years of experience.