Our space planning and design services
Our services in the areas of space planning, design and New Work
At most companies, hybrid working methods are now determining the working environment and have established themselves as an integral element of the world of work. Although the reasons why employees come to the office depend on a wide range of different factors, it is clear that a welcoming design and the right selection of spaces and rooms play a significant role. So how do you go about finding the right concept for your company to motivate employees, attract new talents and strengthen your corporate culture? The answer: with BNP Paribas Real Estate! We work with you to plan and design your perfect new working environment.
With our Project Solutions Team, we offer you our support for your strategy, concept development, planning and implementation within the scope of our project management as an in-house solution throughout Germany. And that's not where our support ends! We also complement our services by accompanying your change process in change management as your communication experts. Our team of creative interior designers, architects and change coaches work hand in hand with you, our clients, to develop individual solutions designed to meet all your needs.
The information below provides a detailed insight into our design and space planning services: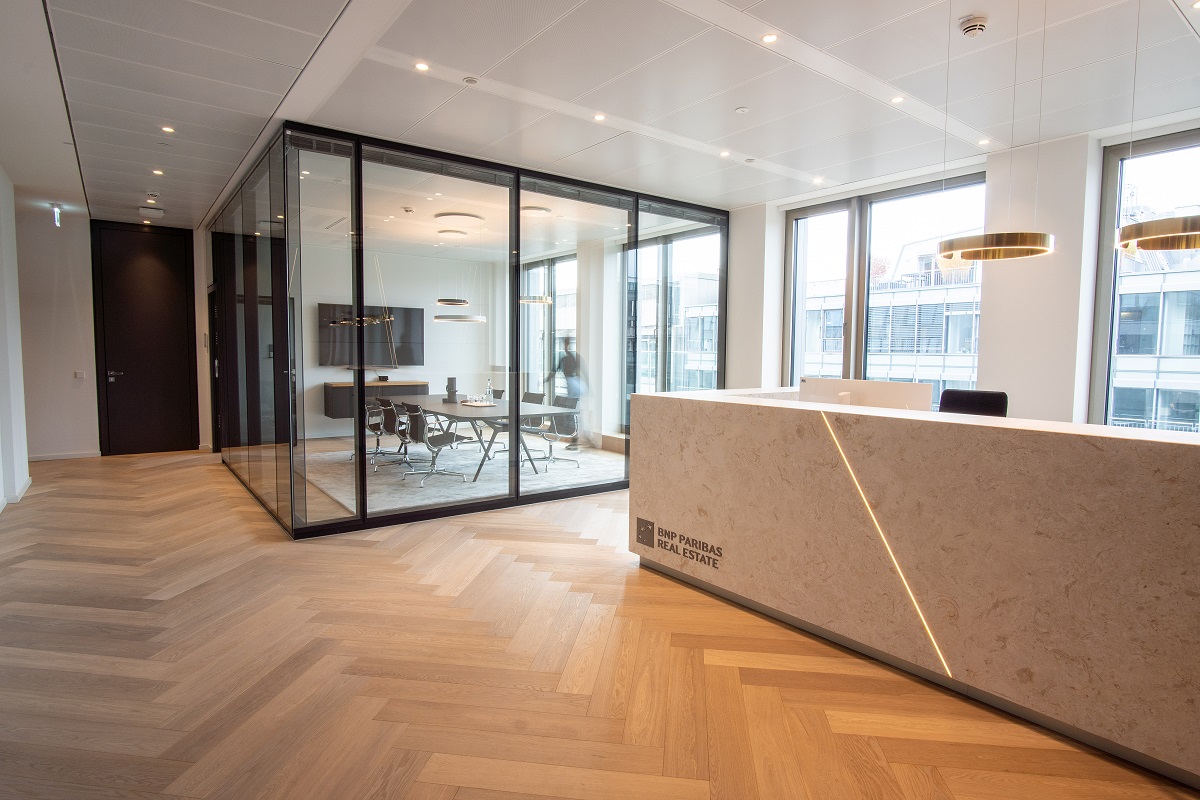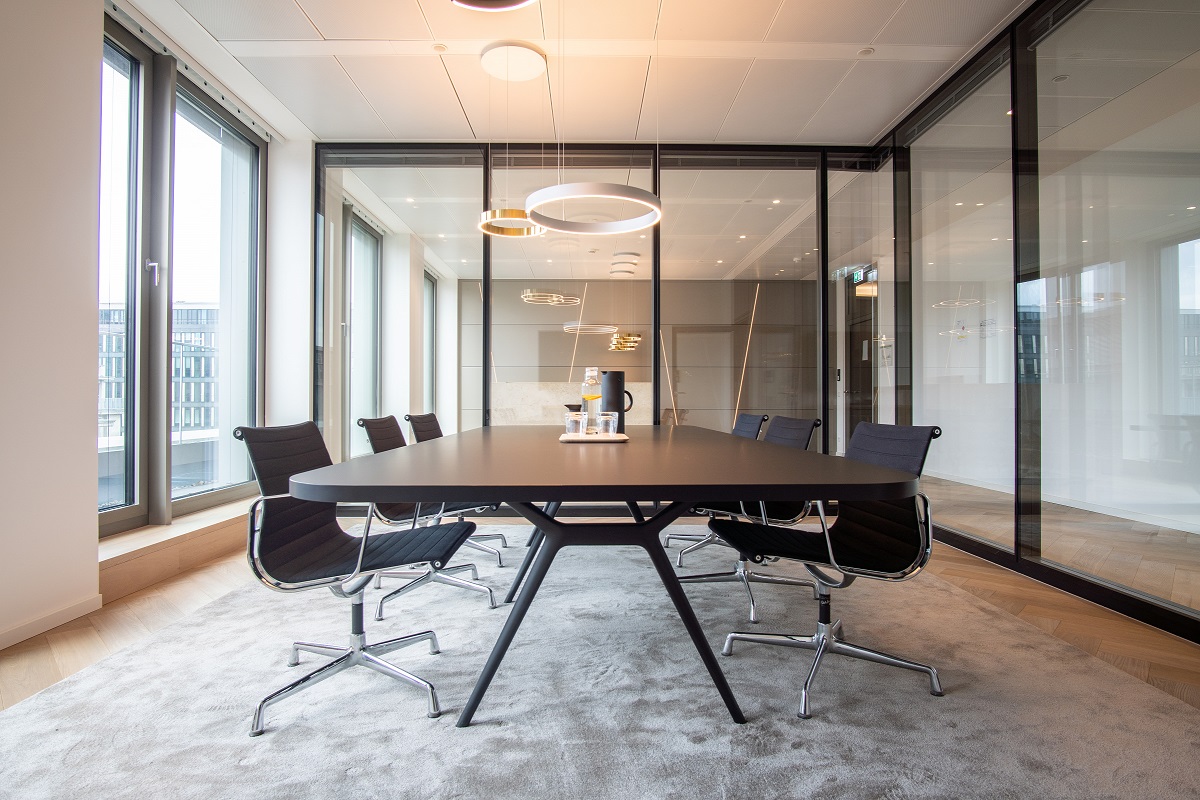 We are your source of clarity and long-term added value
When faced with this new flexibility to decide where and when their employees will work, many companies feel inclined to reconsider the need to have their own office space. They often ponder questions such as: How much space do we need in the long term if our employees are going to work from home two or three days a week? How can we encourage them to return to the office more frequently? How can the classic standard workplace be made as desirable as a self-chosen working location in the comfort of one's home? How do I create new community spaces and a sense of well-being in the office?
We team up with you to develop your new working environment – be it a private office or an open-plan setting and with or without desk sharing. By examining your working styles and job profiles in detail, we gain access to significant details that enable us to identify your ideal future office landscape – not only to meet your needs as a company but also to ensure that your teams will feel right at home at the office. Our long-standing and comprehensive expertise across all industries and company sizes allows us to draw on a wealth of experience in every project, thus enabling our clients to keep up with the latest developments.
A new office is always like a new home for our clients and their employees – and is so much more than just a place of work. It takes a great deal of experience and intuition to create a working environment in which employees feel comfortable and creatively inspired.
Individual spaces or entire buildings – investor and owner perspectives
Office spaces are far more than just a setting for work, which is why we not only focus on defined partial areas but also look at the building as a whole. We come up with revitalisation and upgrade concepts that enable both owners and investors to further improve the presentation of properties on the market. Furthermore, we produce model designs and tenant plans that provide an insight into different concepts and working environments. To keep you fully informed, we also produce a supplementary calculation of areas or an initial cost estimate for you at the same time.
One size does not fit all – different situations require different solutions!
After taking an in-depth look at the brands and unique cultures of users and tenants, we come up with the perfect working environment to not only attract new talents but also, and above all, strengthen connections with existing employees and incorporate their experience into their workplace. Our main focus is placed on working with you to define the spaces and rooms required for your day-to-day work in agile processes. Once this definition is in place, we use the right design approach to make your office space the central hub within your company. Be it an existing area or new company premises, our team is happy to show you how versatile office space can be.
Our clients benefit from our support throughout all stages of the planning and construction process: in strategic considerations, when defining area and room designation and in space planning. What's more, they can rest assured that we always keep an eye on costs, deadlines and, of course, quality. We individually check the feasibility of agreements made in lease contracts and place a strong focus on sustainability aspects.
With our market knowledge, the long-standing and wide-ranging expertise of our team and our international network, we provide our clients with reliable support every step along the way – from searching for properties to designing new working environments and right through to selecting furniture or helping them with their big move.
We are very satisfied with our new facility - both in terms of quality and appearance. When I look back, I have to say that I had a lot of fun, even though the relocation project was a horror show for me in the run-up.
A selection of our services:
Analysis & strategy
Analysing the different job profiles in place at your company forms an important basis for every new or revised workplace concept. To achieve this basis, we work together with you in an agile process to explore and define your needs and requirements in terms of space, room, technology and promoting your corporate culture.

We also integrate and further develop any existing strategies specific to your company.

In addition, our feasibility checks or revitalisation and upgrade concepts for your property act as starting points for your considerations as an investor and owner.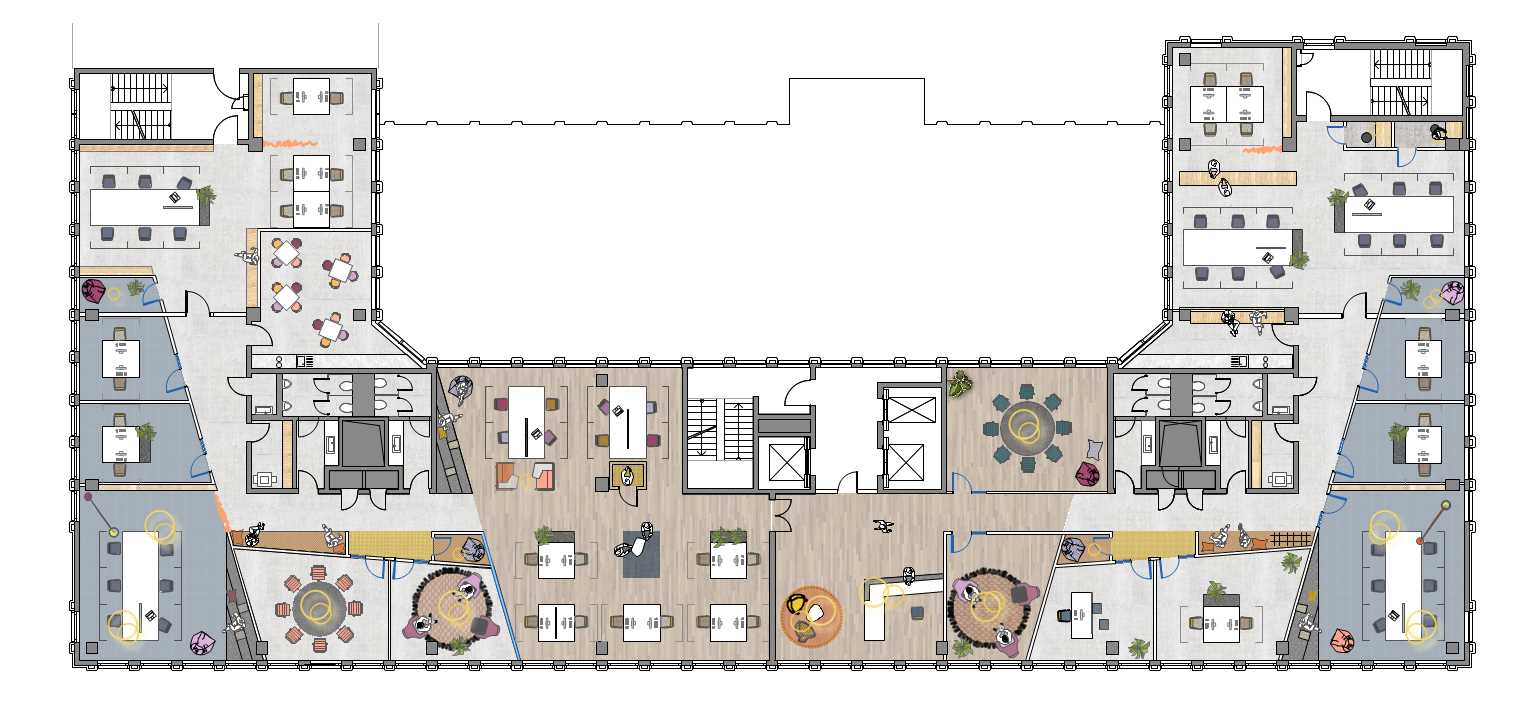 Change management
Involving staff and managers in the design and development of a new working environment is an ideal way to make them feel more connected to your company and open to new experiences. We ensure that your staff are part of the process and accompany your changes with a made-to-measure change concept developed in close cooperation with your HR and Communications department.
Concept, planning & design
We optimise your individual concept by factoring in the needs of your employees and providing space for your corporate culture to thrive.

When developing your new working environment, we use customised sample layouts tailored to suit your needs, as well as tenant fit-out plans.

Our space analysis enables us to compare the efficiency of different buildings in a process supported by the determination of space in accordance with GIF or DIN standards.

We also use tools such as 3D visualisations, mood boards or test areas to define your new interior design. We have no connections to specific products or retailers, meaning that you can rely on our unbiased furniture suggestions.

We develop plans for your working environment down to the finest detail, even with regard to fixtures, fittings and special furnishings.

If you do not have any digital plans for your premises, we will take measurements for you. We are also more than happy to digitise your existing PDF plans.
Project management
We represent your interests throughout the entire planning and construction process, drawing on the expertise of our network of specialist planners for lighting, technical building equipment, acoustics and media technology. Be it requirements management, preparing schedules and project budgets, coordinating interior work or commissioning the space – we've got it covered.

We help you to publish calls for tenders and award contracts based on your company's internal specifications.
Relocation management
As you would expect, our services also cover the planning and execution of your big move.

This not only involves making an inventory of your equipment and technology but also incorporates the production of individual relocation and occupancy plans, the coordination of your move and the provision of on-site support when your moving days come around.