Trends and insights of the residential market in Germany
The German residential property market has been in a price consolidation phase since mid-2022.  Construction and energy costs have risen significantly since the beginning of 2022 against the backdrop of the war in Ukraine and the end of the Corona pandemic.
CONTENTS AT A GLANCE
Residential investment market Germany 

Rental housing market Germany

Market data on major German cities

Factsheets on 110 cities
INVESTMENT MARKET CONTINUES TO CONSOLIDATE
The German residential property market has been in a price consolidation phase since mid-2022.  Construction and energy costs have risen significantly since the beginning of 2022 against the backdrop of the war in Ukraine and the end of the Corona pandemic. In response to significant increases in consumer prices, the European Central Bank, with unprecedented speed, raised key interest rates from 0% to the current level of 4.5%. As a result, financing costs have risen noticeably, making some projects uneconomical.

Since then, owner-occupied apartment price growth has stalled for the first time in years. In the first half of 2023, buyers and sellers of residential properties were rarely able to agree on a price acceptable to both parties. Consequently, investors continue to adopt a cautious stance. This is also reflected in the very low investment volume of 2.6 billion in the first half of 2023, around 70% below the long-term average.

Despite the current weak phase of the housing market, healthy fundamentals of the demand side and negligible new construction activity lead us to expect a stronger increase in rents than has been observed so far.
BROAD RENT GROWTH ACROSS ALL CITY CATEGORIES
When compared to 2021, median asking rents across all city categories have risen significantly.  Rents in the existing housing stock rose by a good +8%, whereas even new builds recorded an increase in rents of just under +12%.

As in the previous year, the strongest rental price dynamics can currently be observed in the still relatively affordable medium-sized cities. Rents in existing buildings rose by +8.3% compared to 2021 and rents in new buildings rose sharply by +14.0%.

An even greater decline in construction completions than in 2022, and additional demand from refugees suggest that rents will continue to rise in the short and medium term. Given the second-round effects that have already taken place and those that are expected in the future, especially in the form of significantly higher nominal wage increases, the affordability of rental housing should continue.
RENTS HAVE RISEN LESS THAN HOUSEHOLD INCOMES SINCE 2002
Consumer prices have increased by around 41% over the last twenty years (2002-2022). However, net household incomes have outpaced inflation. In 2022, German households had an average net income that is about 49% higher than in 2002.
According to the Federal Statistical Office, net household incomes in Germany have developed more strongly than rents between 2002 and 2022. So, at least relative to the development of household incomes, the affordability of rented housing has not generally deteriorated during this period.
DEVELOPMENT OF MEDIAN ASKING RENTS (EXISTING HOUSING STOCK) BY DISTRICT BETWEEN 2014 AND H1 2023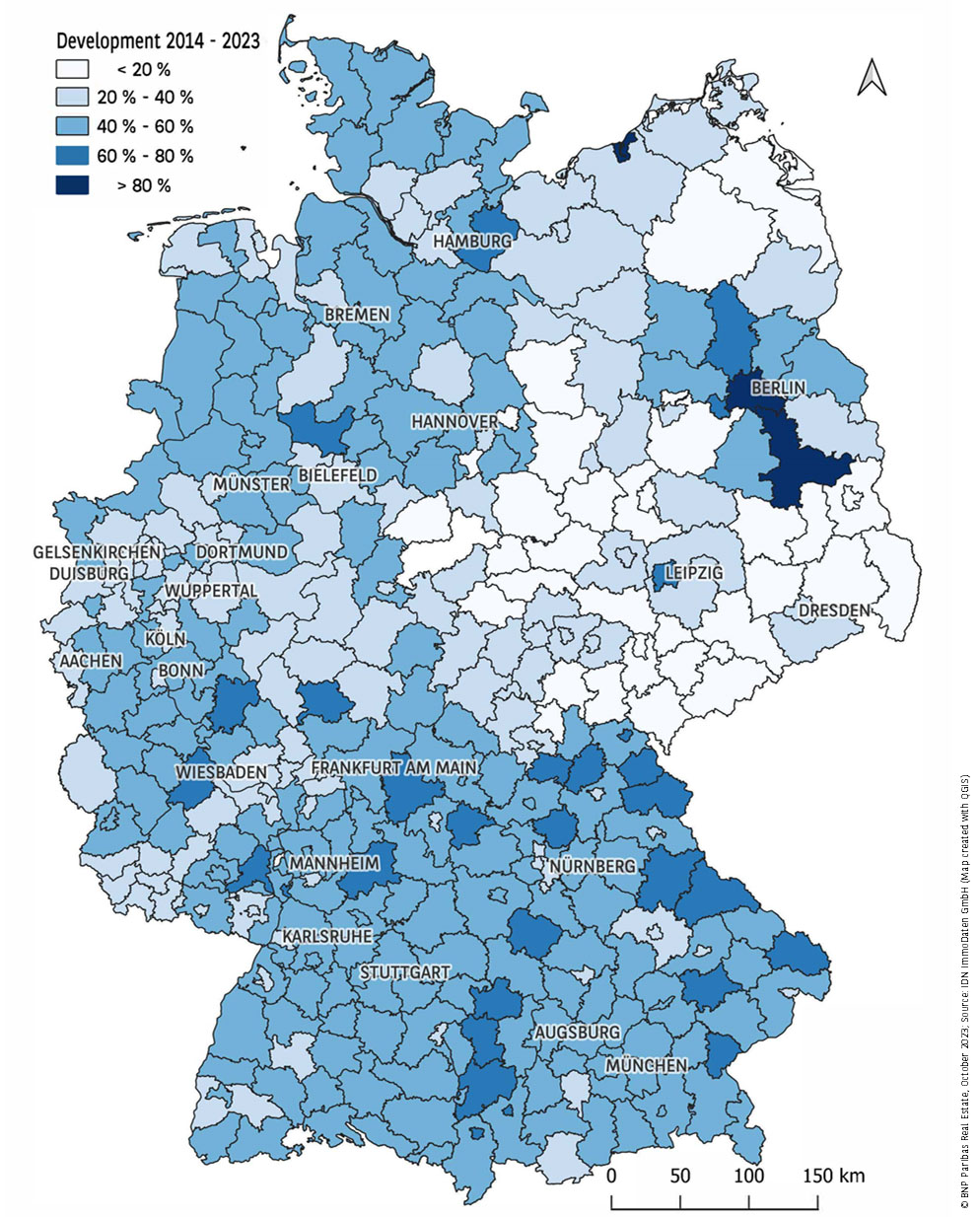 The median asking rent in existing housing stock rose by +43% on average across all districts in Germany between 2014 and the first half of 2023.

From a regional perspective, however, median asking rents for existing properties in Germany rose to very different degrees during this period

Alongside Berlin (+99%), Rostock (+82%) and the districts of Dahme-Spreewald (+83%) and Oberhavel (+75%), located in Berlin's suburbs, show particularly strong rent increases. Bavaria and Baden-Württemberg are the two states with the highest shares of districts with relatively high rent growth rates between +40% and +80%.

Districts with significantly lower market dynamics in the rental housing market during the period examined, cluster particularly in the new federal states and in parts of North Rhine-Westphalia.
ASKING PRICES ARE EXPERIENCING A SELECTIVE PRICE CORRECTION
Against the background of significantly increased energy costs, the energy efficiency of apartments has become an increasingly important criteria when making a purchase. In the first quarter of 2022, the first advertised offer price of owner-occupied apartments was still only revised downwards by around -1%, insofar as a negative price correction took place - irrespective of the energy efficiency of the owner-occupied apartment. However, a generally significant increase in the subsequent negative price correction between the first and third quarters of 2022 to -2.0% and -2.7% respectively, illustrates the start of a new pricing and consolidation phase.

Since mid-2022, owner-occupied apartments with very poor energy efficiency experienced more significant price corrections than those with better energy efficiency: Most recently, apartments with very poor energy efficiency were corrected in price by an average of 80 basis points. The correction in the second quarter of 2023 was -2.7%, which in turn reflects increased energy awareness on the buyer side.
ENERGY EFFICIENCY CLASS CATEGORIZATION IN GERMANY IS SIGNIFICANTLY STRICTER THAN IN OTHER EU COUNTRIES
The renovation of existing apartments with a view to achieving better energy efficiency not only increases sustainability in the further life cycle but can also confer cost advantages and better sales opportunities for owners, tenants, and landlords.

The EU requires that residential properties must reach a minimum of class E by 2030 yet EU countries implement very different thresholds or hurdles. Those applicable in Germany provide for significantly lower thresholds for the individual energy efficiency classes than in other countries. While a residential property with a final energy requirement of, for example, 270 kWh/m² falls into the worst class H in Germany, it would still be classified as class D in the Netherlands. In order to achieve European comparability, the scales of efficiency classes, their threshold values and the calculation methods of the countries would first have to be harmonized.
KEY TAKEAWAYS
In the first half of 2023, the general underlying conditions did not fundamentally improve on the previous year. The energy crisis appears to have been averted for now, although significantly increased financing, construction and land costs, as well as high inflation, continue to create a challenging market environment for all participants.
More negative price corrections, especially for less energy efficient apartments, illustrate the continued weakening demand in the owner-occupier market.
For many average private households, there is no alternative to renting, at least in the new build segment. However, rents are still affordable, partly due to subsequent effects in the form of wage increases that have already taken place.
Excess demand will continue to exist in the rental housing market in the short and medium term, due to continued population growth and sluggish construction activity. Rental prices are likely to continue to rise — in high-demand locations in general, but particularly in either the new construction segment or the still relatively cheap rental housing markets.
The foreseeable potential for rent increases and the stability of cash flows continue to make apartments very solid assets.
Download
Would you like to read the entire Residential Report? Please register using our form. We will then send you the entire Residential Report by e-mail.