BNPPRE Dashboards - Archive
The BNPPRE dashboards offer a wide range of options for displaying the real estate markets digitally and interactively. Whether at the desktop or on the go - with the responsive layout, the market developments of different asset classes can be analysed and discussed on the smartphone or tablet as well as via PC or laptop. The integrated filter function helps to display and compare large amounts of data at a glance. Instead of having to open or even "carry around" a multitude of individual files, the fastest way to the next digital market or location overview can be reached via a single mouse or finger click.
While some dashboards are no longer up to date, they still offer an exciting insight into the various markets. Scroll through our dashboard archive here:
Retail market key figures
Footfall Dashboard 2021
The ups and downs since the beginning of the Corona pandemic are reflected in hardly any other indicator as visibly as in the footfall in German city centre locations, which at times resembled a rollercoaster ride. During the lockdowns, historically low figures were recorded in some cases, but in between they always recovered very quickly. The rapid recovery speed of the footfall in an improving environment clearly indicates that the high street retail sector continues to be strongly accepted and is a positive signal for future development.
An interactive tool that clearly displays and compares footfall figures in 2021 for almost 100 shopping streets in 27 cities.
Expansion analysis 2022
Whether it is expansion to extend their own chain store network, restructuring to improve and optimise locations and rental conditions in the wake of the Corona crisis or market entry in Germany - the possible motives for renting retail space are as varied as the brands behind them. Accordingly, on the basis of current lettings and openings, different motivations can be assumed behind the expansion plans of active retailers. The large pool of active retailers from different sectors with a wide range of location preferences suggests that there are definitely developments that represent countermovements to the much-cited thesis of the abandonment and standardisation of city centres.
The most active retailers in various sectors in German city centre locations (deals since 2020) can be found in the BNPPRE expansion analysis.
Retail Cockpit
Are you planning to open a store in a prime location of the A-locations, but are not sure which city and shopping street to choose? Then perhaps the BNPPRE Retail Cockpit will help you to underline your decision or even to rethink it. The cockpit enables a total of 35 A-locations in the 7 A-cities to be compared with each other across cities and locations on the basis of four retail indicators: prime rents, footfall and letting dynamics (according to the number of deals and take-up). This makes it clear that rent levels, high footfall and letting activity are often, but not always, closely linked.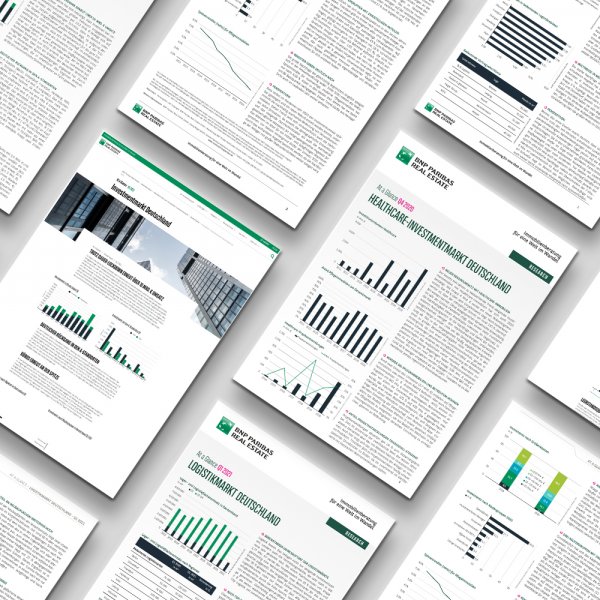 KEY FIGURES AND ANALYSES
ON THE GERMAN REAL ESTATE MARKET
Learn more about current performance in the investment, office, logistics, retail, hotel and residential real estate markets to support your real estate decisions with solid market information. We provide you with a nationwide overview as well as details on the real estate markets of Germany's largest cities.