"BE PART OF THE COMMUNITY!" – DIGITAL APPLICATIONS IN RESIDENTIAL DEVELOPMENTS
Digitisation in housing summons up images of endless rows of data and alienation through cyberspace. The opposite is the case. Digital applications can also create comfort and a sense of community, ultimately also strengthening an urban quarter's brand.
"The higher the quality of a residential area, the greater the willingness to invest in digital components."
A discussion with Dr. Chris Richter, Managing Director of Animus and expert in digitised residential developments, and Udo Cordts-Sanzenbacher, Managing Director of BNP Paribas Real Estate, on USPs arising from digitisation.
Digitisation is also making great strides in the housing sector. What is the status quo regarding smart homes?
[Dr. Chris Richter: The smart home is increasingly becoming an integral part of new developments. The higher the quality of a residential area, the greater the willingness to invest in digital components. Digital control of blinds, lights and temperature and video intercom systems are now standard. That said, when customers want to save money, such special options are unfortunately usually the first to go.]
Who pays for the digitisation of a residential development?
[Dr. Richter: The owner generally pays for the software. The costs add up to a miniscule fraction of the overall development outlay. Digitised solutions serve first and foremost as selling points to help secure higher rents or selling prices, however. A digital residential development – whatever the key focus – is a USP that meets with a positive response on the market.]
What additional benefits does digitisation bring?
[Dr. Richter: Through digitisation, property developers know today what will work and what won't. With regard to the layout of a new development, for example: How many prospective tenants have been identified in advance for which sizes of apartment? Evaluation of this information also indicates which trades will work. Digitisation enables a representation of the entire cascade, from asset manager through property and facility management to the tenant.
[Cordts-Sanzenbacher: An app also serves to provide information about tenant satisfaction. A high level of satisfaction means less fluctuation, higher cash flows and reduced vacancy risks for the investor. Soft aspects such as user screenings or the establishment of a strong brand represent additional benefits.]
"A digital residential development is a USP that meets with a positive response on the market."
What proportion of residential developments is digitised in Germany?
[Cordts-Sanzenbacher: Digitisation is to be found primarily in the new developments of the past five to ten years in the gateway cities. The number of asset and property managers exploiting the opportunities of networked housing construction is still far too low – despite the clear economic, ecological and social benefits. Although surveys in this area are few and far between, I would estimate the share to be under one per cent. So the first mover advantage is still to be had here.]
You mentioned strong brands. Can you cite an example?
[Dr. Richter: A great example is the i Live group, whose student dorms home in very strongly on the community aspect. According to the motto "You're part of a strong, sustainable and incredibly hip community". The demand is huge, because people want to be part of this world.]
[Cordts-Sanzenbacher: This example shows very nicely that digitisation doesn't necessarily lead to alienation. On the contrary: When Lucas from Frankfurt, who is a cycling enthusiast and vegan, comes to Berlin to study, such a community provides him with a very simple means of entering into contact with like-minded people.]
BEST PRACTICE
BelleRü – a smart residential development
BelleRü is a new residential development in Veronikastrasse in Essen-Rüttenscheid. The open spaces between the two- to three-storey apartment blocks feature plenty of green and cherry trees. Predominantly white rendered facades and light-coloured brick areas provide the development with an upbeat, bright look to complement the greenery and underscore the light and airy character of the buildings' interiors.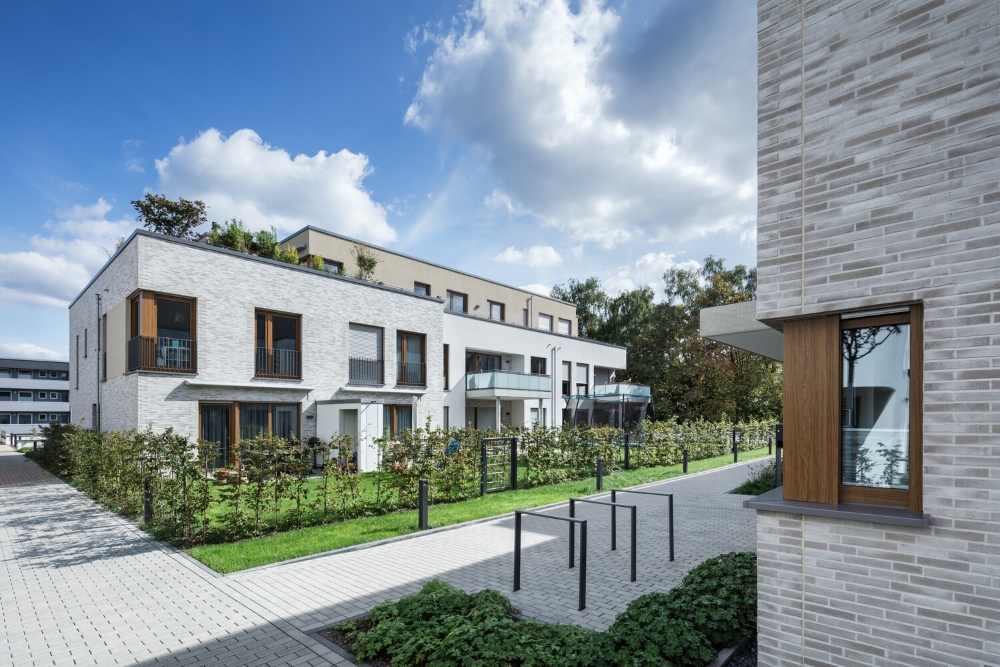 "A recent project in Essen – BelleRü – saw us integrate smart home systems from the outset for the first time. Each parking space in the underground car park has an e-car connection point. And our app also enables the residents to book laundry and parcel services through a corresponding service station. We are obviously keen to continue this development in our next projects."
Are there already applications with an emphasis on health – against the backdrop of Corona?
[Dr. Richter: During the lockdown in spring, a scaled-down version of our app was made available for customers in need of help. New registrations and user frequencies shot up by around 40 per cent. Applications for older people are generally much in demand, though. The complete range of services offered by the St. John's Ambulance Brigade can be booked through the Animus app, for example – from food delivery to nursing services. This is a booming market whose strong growth is being driven by an ageing population.]
What's the next breakthrough waiting to happen?
[Dr. Richter: A real ground-breaker would be an operator's model for residential developments. Individual solutions exist at present, but no-one appears up to evolving an integral concept combining the full spectrum of components, such as energy, mobility or logistics. Anyone who is bold enough to get to grips with this subject matter and come up with a digital solution will really be going places.]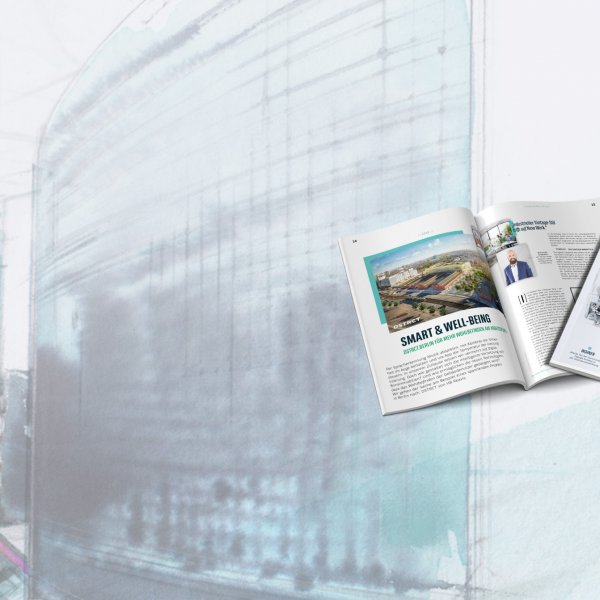 This article is part of Change 03
[Change] : Learn more about the third issue