SAFE WORKING SPACES: TOMORROW'S WORK ENVIRONMENTS
How can I make optimum use of my premises? What sound proofing is necessary? And how can the sense of well-being in offices be enhanced in the interests of strengthening the corporate culture? These questions were on the daily business agenda for the BNP Paribas Real Estate Project Solutions team up to the beginning of this year. Then the Corona pandemic brought forth a host of other issues besides. We accompanied the team for a day and gained an insight into what tomorrow's work environments could look like.
"Right now, our key concern is to design work environments and workflows that ensure the staff feel comfortable," explains Irene Drude, Director Project Solutions in North Rhine-Westphalia, as she takes us on a duly masked and socially distanced tour of redesigned offices in Düsseldorf. Desks have been moved apart, one-way routing introduced and new rules implemented. Five of us are now seated in a meeting room which used to accommodate ten people, its capacity now halved.
"There is an increasing emphasis on working from home, especially for work that doesn't require a lot of interaction," observes Krunoslav Antosovic, Senior Consultant Project Solutions. His colleague from Hamburg, Sandra Berlinghoff, adds:
"The office of the future must offer amenities that we lack at home: a quiet area where we can work undisturbed, a creative area or a common area providing a relaxed setting in which colleagues can talk together with the necessary distancing."
THE OFFICE IS HERE TO STAY
Many people already see working from home as the viable new alternative to the office workplace. Fabian Mottl, Manager Brand Communications at Steelcase, who is a virtual participant in our meeting, doubts whether this trend will become established on a widespread basis, however: "In our view, the office will remain the central focus as an environment in which people are able to collaborate and work together as a team. This is also confirmed by our latest employee survey, which showed direct communication to be an extremely important concern and something that employees expressly wish to preserve in the future."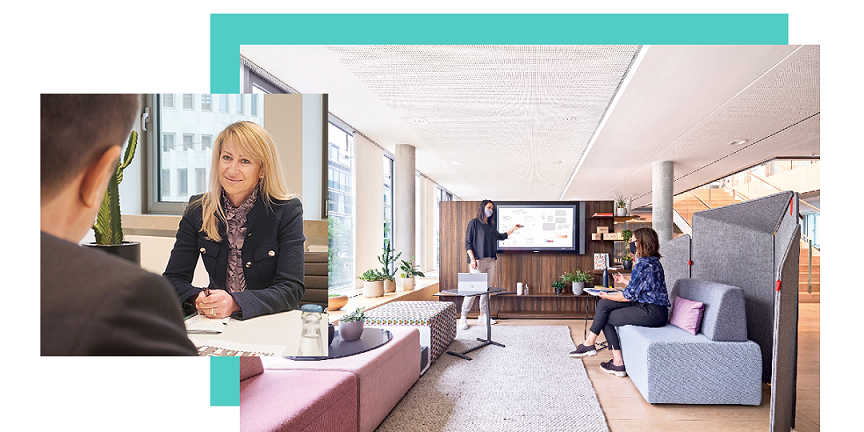 With this in mind, Irene Drude and her team analyse how offices can be organised along safe and flexible lines – now and in the future. By reference to a layout diagram, she shows how companies can adapt to changes. And she explains how the team go about implementing the new measures in three steps:
Analysis of the status quo and identification of "hotspots" to adapt office premises to changing rules and regulations, for example by reducing staff density or altering layouts and furnishings.
Establishing efficient use of a building by drawing up new rules and processes which help the staff to feel safe.
Optimisation of a building's service installations by implementing new technical measures in cooperation with planners. A digital occupancy schedule or new air filters in offices represent examples of possible options here.
FOCUS ON TECHNOLOGY?
After the presentation it is clear that digitisation is becoming ever more important. On the question as to whether the workplace of the future will be dominated by technology, Mottl observes:
"Today's modern workplace is already smart and connected. The main issue is rather how people feel at work. Technology serves as a helpful digital assistant to provide us with information when we need it. By reminding us to move about and get more exercise, for example"
The Office furniture manufacturer is also working on new workplace concepts and has defined five ways of designing attractive and safe workplaces:
Expansion of the space eco-system: Staff must have more choice and control over their choice of workplace.
Flexibility: Companies must design premises such that they can be adapted quickly in the event of extreme situations in the future.
Identification: The workplace should meet the requirements of the team, but also the individual employee's needs.
Fit-out: Facilities to enable staff to work together, such as whiteboards, mobile power supply, etc.
Combination of analogue & digital: Combination of analogue and digital tools to create a non-contact, inclusive work environment, by means of a digital occupancy plan, for example.
At the end of the meeting, Irene Drude takes her leave in appropriate non-contact mode and sums up the present situation as follows: "We have the good fortune to be able to draw on our international team's experience. Within the BNP Paribas Group, we have already organised the safe return of more than 4,000 employees to their workplaces. This remains an exciting time for us, as we continue to respond ad hoc to changes on a daily basis. I don't think it has ever been more fascinating to belong to the Project Solutions team."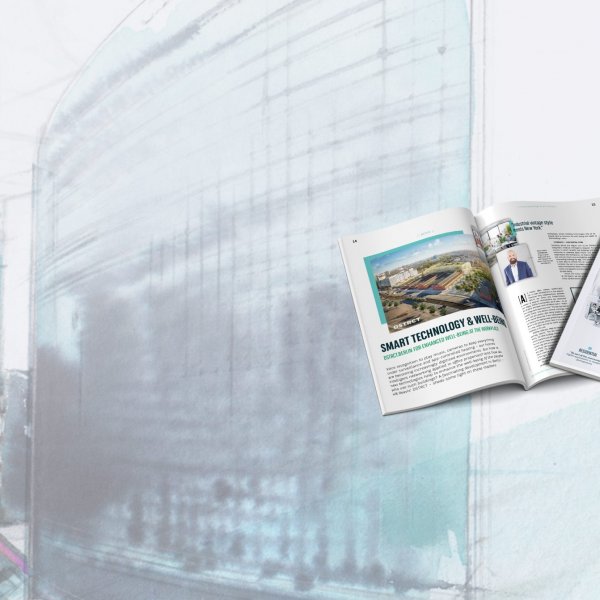 This article is part of Change 03
[Change] : Learn more about the third issue