SMART TECHNOLOGY & WELL-BEING – DSTRCT.BERLIN FOR ENHANCED WELL-BEING AT THE WORKPLACE
Voice recognition to play music, cameras to keep everything under surveillance and app-controlled heating – our homes are becoming increasingly digitised environments. But how is intelligent networking applied in office properties? And how do new technologies help to enhance the well-being of the people who use such buildings? A fascinating development in Berlin – HB Reavis' DSTRCT – sheds some light on these matters.
A modern office campus, DSTRCT.BERLIN, is under development in the popular Prenzlauer Berg neighbourhood, between Berlin's city centre and Friedrichshain. A number of apparent contradictions are reconciled here: digital, healthy & sustainable, old & new – or, as the property developers from HB Reavis put it:
"Industrial vintage style meets New York."
The site has had an eventful history: Once Berlin's central municipal livestock yard and abattoir, after being largely destroyed in the Second World War it was subsequently restored and became the leading meat processing plant in East Berlin in the post-war period. Now it is to be assigned to a new, modern form of use which places the main emphasis on the user.
Matthias Goßmann, Head of Leasing at HB Reavis Germany, explains: "The site forms part of Berlin's history. The listed buildings embody the history of the central livestock yard and abattoir in a special way. We have set out to create special workplaces by combining modern-day work environments with the site's historical setting." Ben Barthel, Director National Office Advisory, adds: "The DSTRCT is not just an office building, it marks a starting point for a process of transformation in the region. Reconciling diverse elements, it is a perfect reflection of the heady mix that defines Berlin."
The new office building and parts of the unique old industrial buildings will house flexible, state-of-the-art workplaces. Smart building technologies will be deployed here to enhance the well-being and health of the buildings' users.
SYMBIOSY – THE DIGITAL CORE
Symbiosy forms the digital core of the DSTRCT development. Artificial intelligence analyses the precise manner in which tenants use buildings and responds intuitively to promote good health and productivity. Staff access the workplaces via Keyless Go, for example, and can check room availability and undertake corresponding bookings by app. The Symbiosy technology is also able to control the air quality in offices. In a nutshell, the aim is to create a productive and healthy work environment which makes the daily routine more easily manageable and provides for an enhanced sense of well-being.
Symbiosy is a technology and sensor platform which has been developed to support HB Reavis' user-focused philosophy in creating work environments. Room use, the quality of the interior environment and cooperation networks within the company are registered via sensors. This information undergoes professional analysis, resulting in automatic recommendations for energy-saving options and alternative work routines and optimising office space, for example. The system also learns the given comfort preferences in offices.
"There are many benefits to working at an office. At HB Reavis, we see a reliable and efficient connectivity infrastructure as an integral element of modern work environments," explains Marcel Sedlák, CEO of HB Reavis Germany. DSTRCT.BERLIN has been designed to meet the highest standards of WiredScore, the international rating scheme for the digital infrastructure of commercial properties, and has received WiredScore Platinum certification. Connectivity is achieved by means of numerous sensors and technologies which are installed in the right places, together with the DSTRCT buildings app.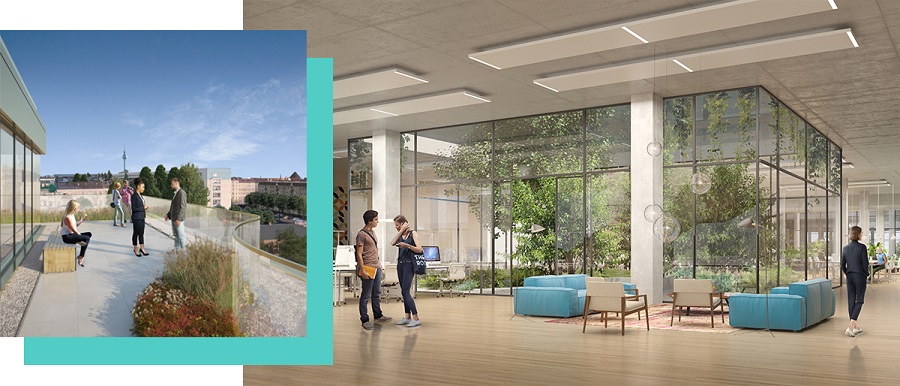 WORK. EAT. MEET.
The digital technologies at DSTRCT.BERLIN accord overriding priority to the buildings' users and their heightened well-being. The campus follows the WELL Building standard, which takes seven categories into account: Water, Light, Nourishment, Air, Fitness, Comfort and Mind. Activated carbon filters and air ionisation automatically ensure the required water and air quality, for example, while new light concepts such as biodynamic light support the body's biorhythm and rooms are designed to encourage movement and creativity. Health concepts are also to be established at the location, including on-site physiotherapists and doctors.
The site will not be devoted solely to work, though – the development's motto, "Work. Eat. Meet", highlights what visitors and tenants can expect here: Alongside state-of-the-art workplaces, there will also be various catering and shopping amenities in the former auction house. Exhibition and event areas are also to be installed here. This eclectic mix rounds off the development's overall vibe, as Marcel Sedlák elucidates: 
"The buildings in which we work, learn and relax influence our lives, our health, our well-being and our productivity."
With this in mind, we have set out to design our projects such that they meet the stringent criteria of the WELL Building standard, with a special focus on the user. For us, an effectively functioning workplace must also offer high-quality catering options, as choice and variety here have a positive effect on employees' well-being."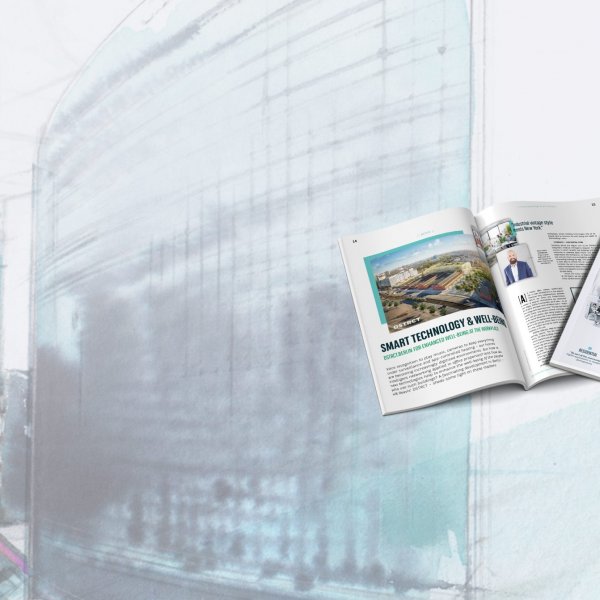 This article is part of Change 03
[Change] : Learn more about the third issue