BIM & TIMBER OFFICE: THE PERFECT SYMBIOSIS OF DIGITAL & SUSTAINABLE
A modern, flexible and sustainable office building is under development in one of Hamburg's most sought-after areas, with completion scheduled for 2022: The Timber Office, offering a perfect work-life balance for employees. Thanks to building information modeling and the modular timber construction method, completion will only take around 15 months. We take a closer look at the special features of this development.
Ever more people are keen to live their lives along more sustainable lines and to use resources responsibly. This trend also applies to the office market – prompting AVW Immobilien AG to opt for a hybrid timber construction for their Timber Office in Hamburg. This construction method combines wood and reinforced concrete and enables savings of 1,200 tonnes in weight and 467 tonnes of CO2.
"While there are long-standing traditions of sustainable building in Hamburg, timber construction specifically has fallen somewhat into neglect in recent decades."
"Against the background of the current climate debate, renewed efforts are now being made to revive timber construction," he continues delightedly. The Hamburg Holzbauforum is held annually as an event devoted to timber construction, for example, and anyone who opts for timber in the housing construction sector also receives support from the municipal authorities." In addition, the renewable raw material was recently approved for construction projects with greater overall heights in Hamburg. The "Wildspitze" is now under construction in Hamburg as Germany's highest timber building, with 19 floors and a height of 65 metres.
THE OFFICE – A PLACE FOR COMMUNICATION
"The Timber Office in Hamburg is playing a pioneering role as the first office building featuring this special hybrid construction method. This project should also serve as a positive example for further developments," Werner notes. A mobility concept for sustainable commuting is also to be integrated. The Timber Office's best parking facilities will belong to cyclists, in addition to which there will also be 11 parking spaces with electric charging stations.
"Well-being is the key consideration in the design of this building. High-quality, natural materials within the office premises and work areas outside are intended to make employees feel positive about their workplace," explains Edward Martens, managing director of AVW AG, with regard to the concept behind the office property. Martens replies to the question as to whether there will be any need for office premises in the future with a smile: "There's no telling how work environments may alter. With this in mind, we have designed an office that offers the greatest possible adaptability to new developments. I'm sure the office will remain an important place for exchanging information. It will also continue to be the central point of contact serving to maintain ties between employees and companies."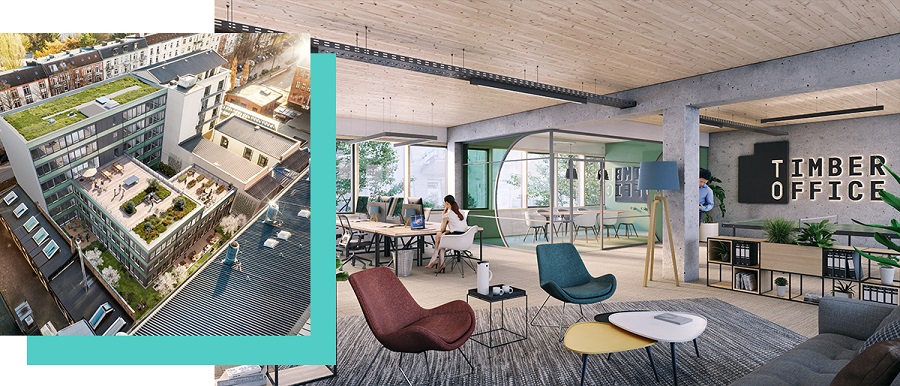 DEPENDABLE PLANNING WITH BUILDING INFORMATION MODELING
The Timber Office will cover approx. 3,500 square metres of floor space and accommodate up to 250 workplaces, with airy ceiling heights of three metres. The absence of superfluous building service installations cuts maintenance costs while also lowering energy consumption on a lasting basis.
Not that technology has been shunned in planning and constructing the building: AVW employs Building Information Modeling – BIM in short. "In general, we look to BIM to bring greater precision to our planning. Precision in terms of the calculation of masses, the avoidance of errors and conflicts with areas such as service installations. Timber construction involves a high degree of prefabrication at the factory to enable faster assembly on site. A fine-tuned BIM model can deliver reliable information at a very early stage here on aspects such as openings and fittings, for example. Overall, this technology leads to a more transparent and documentable planning process," says Martens. He outlines how BIM was applied for the Timber Office: "The different areas of responsibility (e.g. hybrid timber producer, building shell or finishing) are specified in the BIM model, thus clearly showing where the different areas of work overlap. In particular, coordination with the trades involved in the building service installations was carried out using various trade-specific models. In view of the fact that the installed supply media were exposed in part, this proved an extremely helpful procedure. Using BIM involves substantial work at present, as AVW has only recently introduced this technology. Martens is nevertheless convinced that BIM has a viable future:
"Our planning teams keep on learning. I'm certain that BIM is the future for clear-cut, cost-optimised and error-free planning."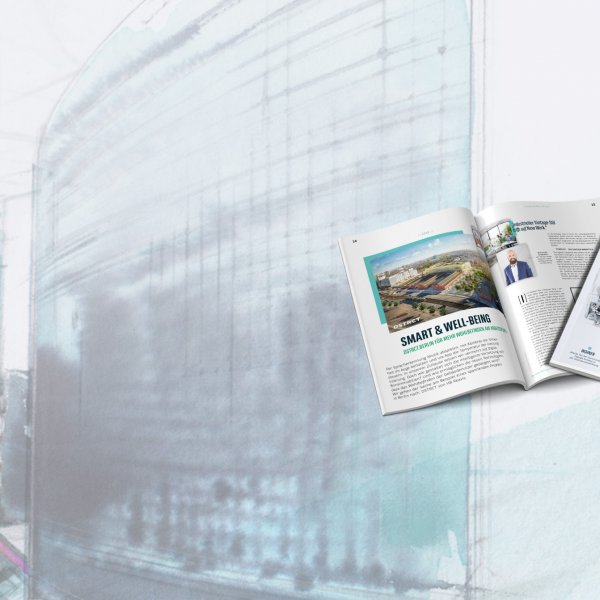 This article is part of Change 03
[Change] : Learn more about the third issue